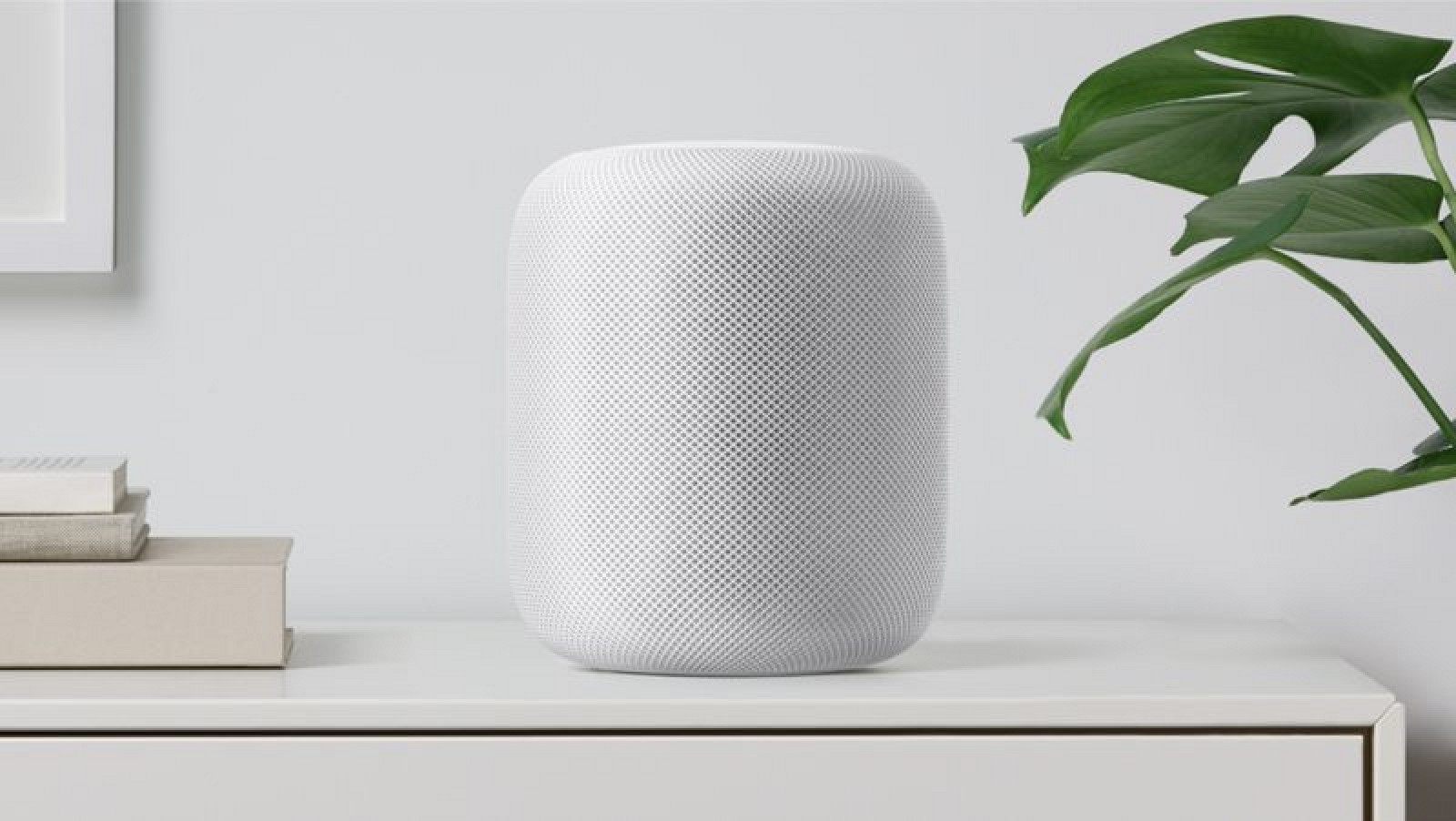 At the 2017 Worldwide Developers Conference in June, Apple unveiled its much-rumored Siri-based speaker, the HomePod. HomePod is designed to reinvent the way music is enjoyed in the home, and, according to Apple, it does something that no other company has managed to do — combines a smart speaker with incredible sound. To differentiate the HomePod from competing products like the Google Home and the Amazon Echo, Apple is focusing heavily on audio quality. HomePod is just under seven inches tall, but Apple has packed a lot of technology into the device's body. It features a 7 tweeter array, with each tweeter outfitted with its own driver, and an Apple-designed 4-inch upward-facing woofer for crisp, clear, distortion free sound even at loud volumes.
The internal components in HomePod are controlled by an A8 chip, making it much more powerful than competing smart speakers. HomePod is equipped with spatial awareness, allowing it to intelligently analyze a room and adjust accordingly for the best possible sound. Included touch controls allow for simple navigation, and there's 1GB of RAM. HomePod is round, compact, and covered in a 3D mesh fabric selected for its acoustic properties. According to Apple, it has been designed to offer incredibly spacious, room-filling sound despite its small size.
HomePod integrates with Apple Music and features built-in Siri support. With a 6 microphone array, the speaker can detect Siri commands from anywhere in a room, even when loud music is playing. Siri has an improved understanding of music-related queries and can help users discover new content, serving as an in-home musicologist, as Apple says. Siri is activated via a "Hey Siri" command, and a visible LED waveform at the top of the speaker is designed to let users know when the personal assistant is listening. Apple always has privacy in mind, so Siri is never actively monitoring what's being said in the room until the magic words are spoken, and all communication between Siri and Apple's servers is anonymous and encrypted.
Design

HomePod resembles a small mesh-covered Mac Pro. It has a cylindrical body with a flat top that is outfitted with a 272 x 340 display that shows a Siri waveform when activated. Built-in touch controls are included to play/pause music and adjust the volume. Measuring in at 6.8 inches tall and 5.6 inches wide, the HomePod comes in Space Gray or White, and aside from the mesh fabric and the waveform LED at the top, there are no other external markings on the speaker, so it has a clean, simple design that matches with a range of interior decors.

Sound Quality and Hardware

HomePod is filled with sophisticated hardware dedicated to providing the best possible sound. At the bottom, there's a custom seven beamforming tweeter array, each with its own individual driver. Precision horns drive audio from the inside of the speaker out through the bottom with what Apple says is "tremendous directional control."
Above the tweeters, there's a six-microphone array that allows the HomePod to hear spoken Siri commands even when loud music is playing, and above the microphones, there's a 4-inch upward-facing Apple-designed woofer that has a powerful motor to move a lot of air, resulting in deep bass. The speaker uses automatic bass correction powered by a low-frequency microphone and dynamic software modeling to keep sound distortion free even at loud volumes. At the very top of the HomePod, there's an Apple-designed A8 chip, which is the same chip that was first introduced with the iPhone 6. It's a lot of processing power for a speaker, and Apple says it's perhaps the "biggest brain ever" built into a speaker. The A8 chip powers capabilities like real-time acoustic modeling, buffering, upmixing of direct and ambient audio, and multi-channel echo cancellation, and it is expected to be accompanied by 1GB RAM. HomePod uses spatial awareness to intelligently detect the room around itself, automatically adjusting and balancing audio to take full advantage of its environment to fill a room with sound regardless of where it's placed.

Apple Music

HomePod integrates with Apple Music, Apple's streaming music service. It connects directly to Apple Music in the Cloud over WiFi, so it is able to access a user's music library, complete with playlists, customized music mixes, and preferences. HomePod also supports a shared Up Next music list, so all of the people in a home can contribute to the music playlist.

Siri Integration

According to Apple, a key ingredient for an in-home smart speaker is a musicologist, which is Siri's role in HomePod. Siri has been updated with a greater understanding of music-related data, allowing the personal assistant to answer a much wider range of music-related questions Through the aforementioned integration with Apple Music, Siri can make music recommendations based on personal tastes, aiding in music discovery, and the assistant can make note of what a user likes. Questions and commands that work with Siri on HomePod include "Play more songs like this," "Play something new," "Who's singing?" and "Play more like that." A sample of music-related Siri commands is available in the image above, shown on stage at the WWDC keynote. Siri is also built to be a home assistant. Siri isn't limited to music and can answer queries around a wide range of topics, doing things like sending messages, offering weather updates, making calendar appointments, and more. Apple built HomePod with privacy in mind. Siri is activated through a "Hey Siri" command, and until those words are spoken, HomePod is not listening to conversations in a room. Once the "Hey Siri" command is said aloud, data is sent to Apple's servers using an encrypted and anonymous Siri ID. All communication between HomePod and Apple's servers is encrypted and anonymized to protect user privacy.

HomeKit

HomePod, like the Apple TV and the iPad, serves as a HomeKit hub. As a HomeKit hub, HomePod enables remote access for HomeKit devices, allowing them to be controlled when a user is away from home. Through Siri integration, HomePod is also able to control all of a user's HomeKit devices, similar to what's possible on an iPhone or iPad.

OS and Other Features

Though the HomePod won't be released until December, Apple in late July released firmware for the device, accidentally revealing previously unknown details about it after developers dug into the code. The HomePod is essentially an iPhone without a front display, as it runs a full version of iOS, relying on a shell app called "SoundBoard" to integrate with the device's hardware. HomePod apps are prefixed with "Air" in the firmware, but there's not currently a provision for third-party apps or extensions. HomePod will include Accessibility features like VoiceOver, and that small display at the top could potentially be used to display shapes and symbols in addition to the Siri waveform when Siri is activated.

Release Date and Supply

Apple plans to release HomePod in the month of December, but no specific release date has been provided as of yet. HomePod will be priced at $349 and will be released first in the United States, UK, and Australia before expanding to additional countries in 2018. Supplies of the HomePod could potentially be limited at launch, based on information shared from HomePod supplier Inventec Appliances. The company's president, David Ho, said a high-profile "smart home device" would be "fairly limited." Ho did not name the HomePod specifically, but he did say the unnamed device was launching in late 2017, which matches up with the HomePod release date. Given that many Apple products are constrained at launch due to unexpected popularity, it seems very likely that it could indeed be in short supply.